Vice is a savage re-imagining of Middleton's 1606 play The Revenger's Tragedy, a Jacobean tale of sex, intrigue and revenge.
Vice tells the story of Vindice, come to the court of a corrupt Duke in disguise in order to avenge the Duke's murder of his beloved Gloriana. He swears upon her skull that he will destroy the Duke and his whole family.
He keeps his word.
From the beginning Vindice demands our sympathy and so makes us complicit in his headlong fall from desire for justice, to lust for savage revenge, and, finally, to damnation. Despite our horror, we find ourselves unwilling for his rampage to stop, so irresistibly enjoyable is our collective descent into hell.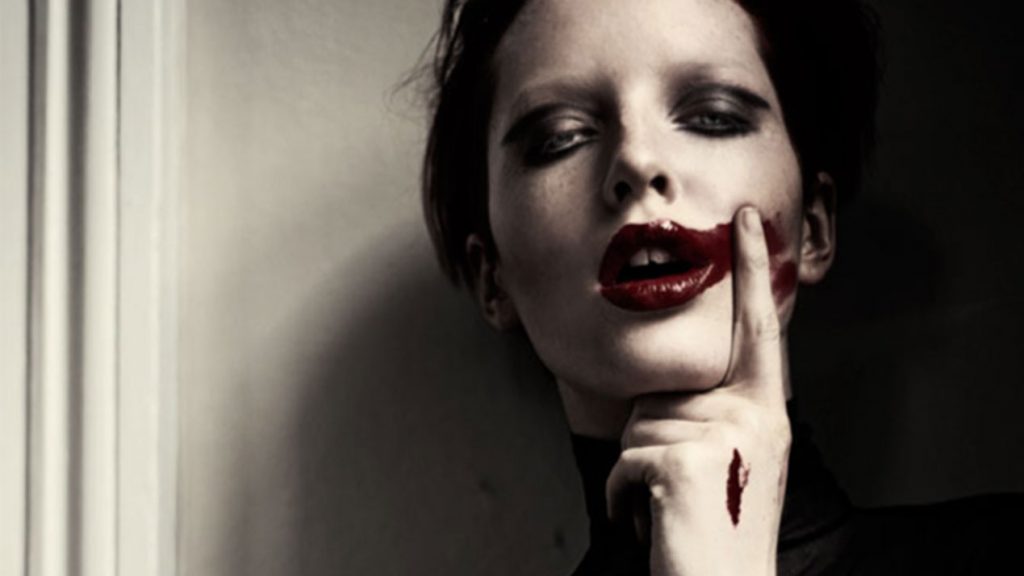 Reworking The Revenger's Tragedy
This seductive and compelling story has been transformed from Jacobean tragedy to modern noir thriller by Sue Curtis's poetic re-working of Middleton's text and Jools Scott's sensuous jazz-fuelled score. Moments of wit and eroticism are blended with heart-stopping visual horrors. A wild pace and macabre humour drive the irresistible surge of the music, lyrical, passionate and chilling by turns, capturing all the sardonic wit of the The Revenger's Tragedy.
Firmly in the tradition of Kurt Weill, libretto and music combined take the original text by the throat and translate it into a vibrant new idiom. The interplay of acting, instrument playing and movement make this a theatrical delight – slick, fluid and funny, with an ironic humour that comes from creating an orgy with the aid of a tenor sax and poisoning a Duke to the rhythm of a tango.
Its themes of power, privilege, and the exploitation of women in a male world, together with the destructive force of violence and revenge, make it urgently recognisable to a modern audience.
Original and highly inventive, this is a ground-breaking piece that explodes the boundaries between music theatre, opera and classic drama and will appeal to a wide range of theatregoers attracted by the sexiness, outrageous humour and ravishing music of the piece.
Cast
Note: This Cast list is for a full scale production, but Vice has been performed with a much smaller ensemble of Actor / Musicians.
Vindice, a poor nobleman. (Baritone/Bass)
Gratiana, his mother. (Alto)
Castiza, his young sister. (Soprano)
Hippolito, Vindice's brother, Court Entertainer. (Main dancer)
The Duke. (Bass)
Lussorioso, his son and heir. (Baritone)
Spurio, his bastard. (Bass)
The Duchess, his second wife. (Mezzo-soprano)
Ambitioso, her eldest son. (Tenor)
Supervacuo, her second son. (Counter-tenor)
Junior, her third son, a boy of fourteen. (Tenor)
4 Pandars, they perform as a singing quartet. (Counter-tenor, Tenor, Baritone, Bass)
The pandars all play several parts: the executioner, the jailor, Junior, guards, pimps, bully-boys, servants and devils.
Jools Scott
Jools Scott has worked with the BFI, Brodsky Quartet, Transport for London, Philharmonia Orchestra and the St. Paul's Cathedral Choir since starting his journey as composer and pianist.
In 2015, he scored Andrew Steggall's debut feature film Departure ("Jools Scott's tastefully sparse score" – Variety Magazine). The same year, he acted and played in the band for the National Theatre / Bristol Old Vic critically acclaimed production of Jane Eyre.
In 2014, Jools and his long-term librettist Sue Curtis, completed The Cool Web : A Robert Graves Oratorio, which premiered in Bath Abbey with Philharmonia Voices and Endymion. The Cool Web opened the Wimbledon International Music Festival in 2017, and closed the official UK and Belgian 1914-1918 centenary programme at St. Paul's Cathedral in 2018.
Fine Times Recorder on The Cool Web "his choral writing is simply sublime, constantly making use of different textures and truly giving the choir something to sing about."
Andrew Carwood (director of music at St. Paul's Cathedral) on The Cool Web – "A fine piece of music, unfailingly sensitive text setting…moments of great dramatic intensity."
Sue Curtis
Sue Curtis has lectured at universities in South Africa, Austria, and England. She taught at King Edward's School in Bath for twenty years, founding a Drama Department which sent more than 150 students into the industry.
She has worked in theatre as an actor and as an award-winning director in Austria, South Africa and England.
Since 2010, Sue Curtis has worked in collaboration with Jools Scott as a librettist. They have written operas, oratorios, a children's musical, song cycles for children's choirs, and many songs. The latest performance of their work was at St Paul's Cathedral in November 2018, when The Cool Web: A Robert Graves Oratorio became the final commemoration concert for the First World War on behalf of the Flemish Government and St Paul's.
Alongside this collaboration she writes poetry and scripts for stage, radio and film. Present work includes two stage plays, The Astonishing Adventures of Joseph Grimaldi (due to tour in 2021) and Nocturne.
Sue and Jools are represented by:
Rachel Daniels (Berlin Associates)
+44(0)20 7632 5284