On November 8th 2018, there was a special edition of Flanders Remembers including a performance of The Cool Web at St. Paul's Cathedral.
Flanders Remembers
The General Representation of the Government of Flanders organises Flanders Remembers in London, a concert to commemorate the fallen British and Commonwealth soldiers in Flanders Fields. Music is often performed by Flemish musicians, but there is also attention to British contributions. On several occasions there have been readings of poetry or testimonials about the Great War.
15th Edition of Flanders Remembers at St. Paul's Cathedral
Nic van de Marliere, General Representation of the Government of Flanders, had a big vision for the final Flanders Remembers concert of the First World War centenary. This 15th Edition of Flanders Remembers would be the last with him as General Representation, since he started the series back in 2002.
The Collaboration
Former Belgian Ambassador and his wife, Guy and Nathalie Trouveroy, heard The Cool Web in Bath Abbey back in 2014. They were incredibly impressed with The Cool Web as an act of commemoration, especially in a year when there had been so many. After several meetings at the Belgian Embassy, Sue Curtis, the Flanders House team and I came up with a solid plan to approach St. Paul's Cathedral with a concert proposal.
Andrew Carwood, Head of Music at St. Paul's had already heard great things about The Cool Web from Edward Grint, the vicars choral who took the baritone solo role at Bath Abbey in 2014. With this in mind, and with the obvious gravitas of a collaboration with the General Representation of the Government of Flanders at the end of the centenary, the Dean and Chapter of St. Paul's gave the green light for the proposed Flanders Remembers concert.
World renowned composer and conductor Dirk Brossé was brought on as conductor, alongside Flanders Symphony Orchestra and the St. Paul's Cathedral Choir & Cathedral Consort. It became obvious that there should be a Belgian contribution to the musical programme. Brosse's Excerpts from Distortion : A Hymn to Liberty was chosen to open the concert, followed by The Cool Web : A Robert Graves Oratorio.
The Concert
Flemish minister-president Geert Bourgeois greeted some 2,000 guests in St Paul's Cathedral.  Guests at the event included members of the British parliament, the lord mayors of London and Westminster, dignitaries of the Queen, ambassadors to the EU and veterans and organisations with whom Flanders has been working for the First World War centenary.
Excerpts from 'Distortion : A Hymn To Liberty'
Composed by Dirk Brossé
In 2014, the Government of Flanders commissioned composers Dirk Brossé, Jef Neve and Frederik Sioen to create a musical composition for the commemoration of the First World War. The three composers, from three different musical backgrounds, were approached to create a single piece, a hymn: 'A Hymn to Liberty'.
If a nation, a people, was to achieve the ultimate liberty, distortion was needed. Many were stripped of their sense of restraint, no longer aware of what was up or down, good or evil. Fighting for freedom, a contradiction in and of itself, was the only way to live on, to survive. It developed into a unique piece of music in which each composer, in their own musical language, has provided a personal interpretation of the theme 'peace and liberty'. The three composers worked independently and in complete freedom. They are bound only by their love of a lyrical, musical language and a boundless respect for each other's talent. The result is a mosaic of unique moods, charged emotions, and refined timbres.
'Distortion, a Hymn to Liberty' premiered in 2015 in Flagey in Brussels.
The Cool Web : A Robert Graves Oratorio
Music by Jools Scott, libretto compiled by Sue Curtis from the poetry of Robert Graves
The Cool Web : A Robert Graves Oratorio was born out of a desire to write an oratorio in commemoration of World War One. Graves's youthful poetry enabled us to focus the work on the experience of a young man at the front, told in his own words. The poems are a passionate and immediate response to the horror, fear, and grief of the conflict, framed by the attempt of a poet to articulate unbearable suffering.
The Cool Web at St. Paul's Cathedral
I was a chorister at St. Paul's Catherdral from the ages of 8-13. This is where I started composing, and where I was first exposed to the wonderful English choral repertoire. As a composer and ex-chorister, having a performance of The Cool Web at St. Paul's Cathedral is the highest of accolades.  The concert was the greatest moment of my life.
It was a particular pleasure to work with Dirk Brossé. Dirk is an inspiration, both as a conductor and composer. He performed The Cool Web like it was one of his own pieces. I am incredibly grateful for the support and encouragement he gave me.
Also, Andrew Carwood was a huge support and inspiration. His musical skill is second to none, and his brilliant and calm approach with the people he works with created a smooth running team.
It was a great honour to have William Graves in the audience, and other members of the Graves family.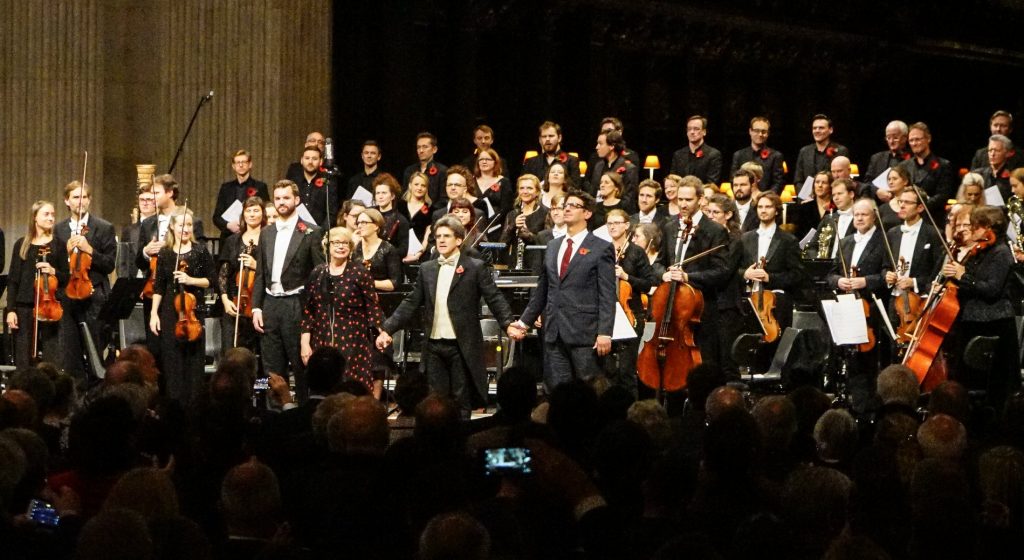 Performing Musicians
St. Paul's Cathedral Choir & Cathedral Consort
Resident at St Paul's throughout most of the year, the Cathedral Choir consists of 30 boy treble Choristers, eight probationers and 12 Vicars Choral – all professional adult singers who sing alto, tenor and bass. At the heart of the Choir's being is the singing of Choral Evensong each day, with Choral Mattins and Sung Eucharist on Sundays. As well as this traditional routine, the Choir frequently gives concerts and broadcasts, as well as producing critically-acclaimed recordings and touring across the world.
The Cathedral Consort was formed in response to the large number of extra services and evening events which take place at St Paul's. It consists of the Vicars Choral and our team of professional sopranos.
Flanders Symphony Orchestra
For over fifty years, the Flanders Symphony Orchestra has been a beacon of the Flemish orchestral landscape. Composed of sixty highly committed and passionate musicians, and led by renowned conductors, the orchestra both performs and creates new compositions as well as electrifying renditions of the main symphonic repertoire from the classical period onwards. As a result of its own concert series in all major venues of Flanders and Brussels, the orchestra succeeds in reaching a large and loyal audience. In addition, the orchestra is a welcome guest at international venues and festivals. The Flanders Symphony Orchestra is in residence at Muziekcentrum De Bijloke, Ghent (member of the UNESCO Creative Cities of Music Network) and receives support from the Flemish Government and the City of Ghent.
As one of Belgium's most important orchestras, the Flanders Symphony Orchestra fulfils an exemplary role in facilitating outreach projects, educational projects as well as projects focusing on the development of young and talented musicians, composers, and conductors.
Dirk Brossé
Dirk Brossé is a multi-faceted composer and a respected conductor on the international music scene. He is the Music Director of 'The Chamber Orchestra of Philadelphia and of 'The World Soundtrack Awards' at Film Fest Gent. He has composed some 400 works, including concerti, oratorios, lieder, chamber music, symphonic works, musicals and film scores. He has conducted all the leading Belgian orchestras and has conducted over 120 orchestras all over the world. Has made over 100 CD recordings and has collaborated with world-class artistes such as José Van Dam, Barbara Hendricks, Julia Migenes, Julian Lloyd Webber, Salvatore Accardo, Alison Balsom, Hans Zimmer, Emma Thompson, Randy Crawford, John Williams, John Malkovich, Lisa Gerrard and Marcel Khalifé.
Dirk Brossé has been awarded the title Cultural Ambassador of Flanders and the Flemish Parliament's Gold Medal for Merit. He is a member of the Royal Flemish Academy of Belgium for Science and the Arts and has been a Fellow in Arts & Humanities at the Brussels University VUB since 2018.
Edward Grint
British Bass Baritone Edward Grint is a recent graduate of the International Opera School at The Royal College of Music (RCM) and a former choral scholar of King's College, Cambridge. Edward was awarded the top prize at the 24e Concours Lyrique in Clermont Ferrand in 2015, Second Prize at the 3rd International Singing Competition Pietro Antonio Cesti in Innsbruck and was a finalist in the 2014 London Handel Competition. He currently studies with Peter Savidge.
Hanne Roos
This young Belgian soprano worked for the Operastudio Vlaanderen and Opéra national du Rhin. Roos made a lasting expression with her debut Rosina (Barber of Seville), followed by L'Amour & Clarin (Platée) and Kate Pinkerton (Madama Butterfly). Important recent commitments were her role debut as Dorella in Wagner's Das Liebesverbot and Giannetta in a new production of L'Elisir d'Amore, both at the Opéra du Rhin.